View our newsletter here: https://mailchi.mp/9c3a8f3cb1fe/its-time-for-truth-transparency-and-honesty
Vote. For Candidates that Care. Here are our recommendations.
47th Congressional District (Los Alamitos, Rossmoor), 72nd Assembly, 34th State Senate
48th Congressional District (Seal Beach) 72nd Assembly, 34th State Senate
WHY JOE KALMICK FOR SEAL BEACH – CITY COUNCIL DISTRICT 1 (OLD TOWN/SURFSIDE)?
"The attached email (with counterpoints added) was sent by Seal Beach District 1 Councilperson Ellery Deaton late last night. Her claims that she is "just now" coming to a decision is false as are many and most of all her support points for Peter Amundson. She is using her public seat and contact with Old Town and Surfside to continue her agenda and to try to remain in control of our city after 8 years that have brought us to financial dire straights. She and Peter are totally immersed and backed by the Republican party.Our club and the DPOC have endorsed Joe Kalmick and we have to work the next 23 days to insure that word gets out on her disingenuous behavior and make sure Peter Amundson gets no further in our town."Please share this District 1 SB folks. Download image for better viewing.
Download file below:
https://gallery.mailchimp.com/b9511d3a4a5375a059e6f8c02/files/335030ae-d437-4f34-91a5-037171231756/Ellery_Letter_Counterpoints.pdf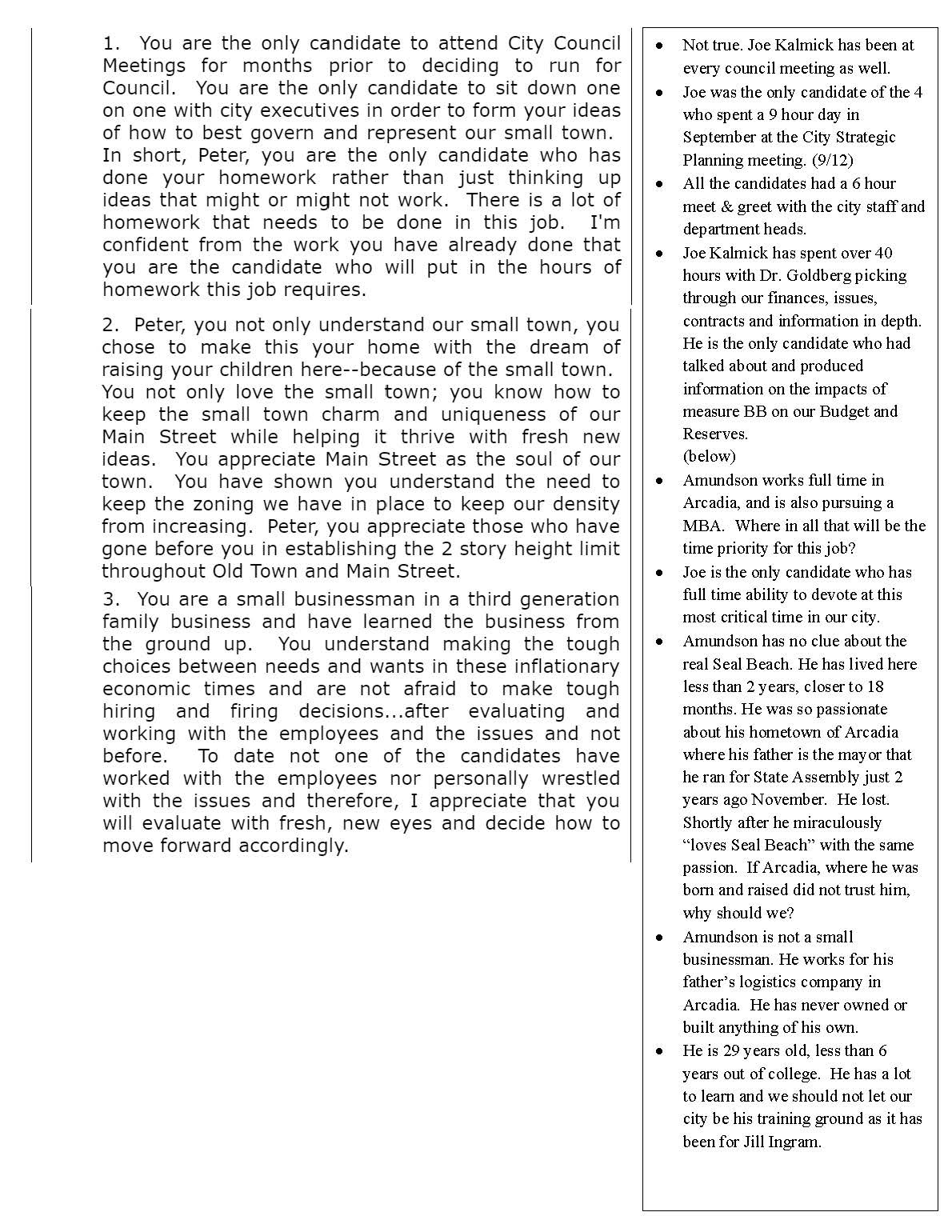 SB CITY COUNCIL – DISTRICT 1
JOE KALMICK
www.joekalmick.com
Los Alamitos Unfied School Board
Time for a Change!
Los Alamitos School Board Reacts after hours of testimony about decades of no action.

Racism, Sexism, Anti-Semitism, Misogyny, Gender Inequality, Homophobia have existed for decades in Los Al schools. When confronted with stories from community members, this is how the board responded. As if they had no idea that it every existed.
After the board spoke this mother was enraged at the Board for their years of in action.  It's time for change!
WHY MARLYS DAVIDSON FOR LOS ALAMITOS UNIFIED SCHOOL DISTRICT?
YOU HAVE TWO VOTES!

The values I have carried with me as a parent, an educator, and a member of this community are the same values that will guide me as a board member. Throughout this campaign, we will be examining how these values contribute to creating a district that embraces and respects all stakeholders. They are centered on a learning environment to engage every student, fiscal responsibility, and campuses where every student feels safe and welcome.
Please click the link below to learn a little bit more about me and my campaign.
https://www.marlysdavidson.com/
https://www.facebook.com/electmarlysdavidson/
From Casey her son:
Those of you who know us well, know that I recently relocated to the Washington DC area for work. While it has been really hard on all of us, I feel like my Mom is close every day. Growing up the son of a US history teacher, I had the Stars and Stripes around me all the time. My Mom's passion for teaching is rivaled only by her passion for this country, and its history. I'm now surrounded by all of the things she taught me about growing up. To me, the flag represents service. All kinds of service. Through my Mom I learned to be grateful and respectful of the military, appreciative of teachers and other community leaders, and so much more. These three flags are of particular importance to me. The first is my Grandfathers flag, representing his service to our country in World War II. The second was given to us from one of my best friends after serving in Afghanistan. While on tour we rallied people together, and got donations going to send overseas. My Mom and her fellow teachers at McAuliffe came through tremendously. The third is the flag that waves in front of my house. I see it every day and think of my friends and family who have served in the military, my Mom and Dads service to our community through teaching and coaching, and really anyone else who is serving a cause greater than themselves.
If anyone thinks for a second that my Mom is running for school board to take flags off campus, they haven't done their homework (pun intended). 🇺🇸🇺🇸🇺🇸
I love you, and I am so proud of you Mom!
Casey
Check out my interview with Los Al TV! I had a great time addressing the issues that affect our schools and discussing the momentum of our campaign.
MARLYS DAVIDSON
www.marlysdavidson.com
MARYLS DAVIDSON CANDIDATE FOR LOS ALAMITOS SCHOOL BOARD
WHY OLAINA ANDERSON FOR LOS ALAMITOS UNIFIED SCHOOL DISTRICT?
YOU HAVE TWO VOTES!

I'm on TV! http://www.losaltv.org/?p=402
Click on the Los Alamitos TV YouTube link to find out why you should vote for Olaina Anderson to be your next School Board Member. You'll learn about my qualifications as a teacher and parent, my commitment to our community as a Past President of MOMS Club of Seal Beach and Moms Demand Action for Gun Sense in America founding member, and my platform on school safety, fiscal responsibility, academic integrity, and educationally sound practices. I love our teachers and our students and look forward to representing them on our School Board. Vote Olaina Anderson on Nov. 6! #olaina4schoolboard Olaina4SchoolBoard
OLAINA ANDERSON
www.olaina4schoolboard.com
OLAINA ANDERSON CANDIDATE FOR LOS ALAMITOS SCHOOL BOARD. Click on links (in blue) below to view each candidate:
1:06 Olaina Anderson
WHY JOSH LOWENTHAL FOR 72ND ASSEMBLY?
Josh is genuinely in this race because he cares. His opponent, Tyler Diep, doesn't listen or care about constituents.
Josh Lowenthal is the president of FreeConferenceCall.com, responsible for the overall business strategy including all retail and wholesale operations, global expansion strategy, sales and marketing and business development. Since joining the company in 2010, Josh has been instrumental in helping FreeConferenceCall.com grow exponentially across 60 markets on five continents, connecting more than 40 million callers each month. The company is the most recognized retail brand of conferencing and collaboration services on the planet.
Prior to joining FreeConferenceCall.com, Lowenthal served as founder and CEO of various telecommunications start-ups: West Africa-based AVAD Networks, TeleJunctions Conferencing and Flash phone pioneer Yakfree.com.
Lowenthal earned a bachelor's degree from Cornell University and attended the University of California, San Diego, where he earned a master's degree in international affairs. He currently serves on the advisory board of directors at Children Today and lives in Huntington Beach, Calif., with his wife and three daughters.
72ND ASSEMBLY
JOSH LOWENTHAL
www.JoshLowenthal.com
WHY TOM UMBERG FOR 34TH STATE SENATE?

Helping Our Veterans
Tom Umberg is a retired U.S. Army Colonel who served three tours overseas including Korea and Afghanistan. During his service as a JAG officer, Umberg tried felony cases and attacked corruption. Umberg will advocate for our veterans ensuring they have the benefits they've earned for education, healthcare and housing.
Strengthening Small Business
As a small business owner, Tom Umberg built a successful veteran-owned small business in Orange County. Umberg knows what it means to run a business and meet a payroll. He will be an advocate for local small businesses, cutting red tape and unnecessary regulation.
Protecting Worker and Immigrants' Rights
As an Assistant U.S. Attorney in Orange County, Tom Umberg fought corruption, prosecuted gang members and protected civil rights. Umberg will protect the rights of workers, immigrants and women who deserve to be free from harassment and intimidation, and will stand up for equal pay for women.
Keeping Us Safe
Tom Umberg was the nation's Deputy Drug Czar, appointed by President Bill Clinton. He led the fight to prevent the flow of foreign drugs into the U.S. and to reduce drug abuse. Umberg will combat the current opioid epidemic and put an end to senseless gun violence.
https://www.umbergforsenate2018.org/wp-content/uploads/2018/10/Umberg-Campaign-Bio.pdf
TOM UMBERG
https://www.umbergforsenate2018.org/
WHY JIM MORENO FOR COAST COMMUNITY COLLEGE TRUSTEE?
Community Colleges provide an invaluable role to our community. I am a product of the Community College system. I live in Huntington Beach and my four daughters attended Golden West and Orange Coast Colleges. Like me, they, too, earned advanced degrees.
I have served as your Trustee for the past twelve years and during that time I have seen our colleges grow and graduate or transfer 65,000 students to university or on to good paying jobs.
During this time I have dedicated myself to getting the best and highest use of your tax dollar. You too have contributed to the success of the Coast College District by passing millions of dollars of Bonds for the improvement of the campuses and the equipment used for the education of our District's students.
At the State level I am proud to represent the Coast College District on the California Community College Trustees' Executive Board and make policy and legislative recommendations for the benefit of the 2.1 million state wide students we serve. And I thank my fellow Trustees for placing their trust in me.
I am a native California baby boomer raised in Southern California and a graduate from Long Beach State. After college I began work as a probation officer and lived in Trustee Area 1 in Northwest Orange County. During my career of thirty-five years with the County of Los Angeles, I was an assistant administrator of two county general hospitals and multiple clinics. I also taught Spanish in a classroom setting to Medical professionals. I was a budget analyst for the Department of Health, and during the 80's and 90's I was a Senior Deputy for County Supervisor Ed Edelman. My duties as the Supervisor's Deputy were to assist in policy development, handle homeless and health issues and manage a $16 billion budget.
I look forward to continue working as your Trustee of the Coast Community College Area One.  I understand the needs of students who have to compete in a world market. Please consider me as your candidate for Trustee.
Jim Moreno, MPA
JIM MERANO
www.JimMerano.com
WHY DUKE NGUYEN FOR ORANGE COUNTY SHERIFF?
My family came to Orange County as refugees to find the American dream.
My father, was an officer in the South Vietnamese military. He was held as a prisoner of war for five years. During which my mother gave birth to me. After his eventual release, we were sent to Malaysia, where we spent two years as refugees in Malaysia. In 1981, we were admitted to the United States. I have been in Orange County ever since. In 1990, I graduated Saddleback High School, and attended California State University Long Beach, where I received my degree in Administrative Criminal Justice. I am an immigrant, a lifelong resident of Orange County, a Husband and a Father, an American.
My candidacy for OC Sheriff is about making the Sheriff's department work for all the diverse residents of our great county. I want to revitalize an old, and archaic system and evolve it into something that works for our community, not against it.  This campaign is about taking a step forward, and acting in the name of progress. I will not sit back while our communities face systemic corruption, racism, and disenfranchisement of those whom are most ill prepared to help themselves.
I have over 26 years of law enforcement experience. From 1992, where I began at the Santa Ana Police department, to today where I now work  with the LA district attorney's office in the Justice System Integrity Division (JSID). In my days as a patrol officer I spent time in the roughest parts of our communities, combating violent crime and working to change an imbalanced system.  The past decade, I investigated a different, but no less destructive, brand of crime — government corruption, the misuse usage of funds, bribery and money laundering. My experience identifying fraud and corruption within the city government is what drove me to become a humble candidate for Orange County sheriff.
During the day, I am a detective working to investigate officer involved shootings. At home, I am married to my beautiful wife Laura. I have two wonderful children, Kaycee who is 11 and Devon who is 10. In my spare time; I enjoy cooking, traveling, bike riding, and spending time with my family. I look forward to continuing to serving the community and creating a transparent partnership for the future. I am Duke Nguyen and I am seeking election as the next Sheriff of Orange County to make sure that every single the family in our community receives the most professional level of policing.
Duke and his wife, Laura, live in North Tustin and are the proud parents to two children.
DUKE NGUYEN
http://www.nguyenforsheriff.com/
LOS ALAMITOS UNIFED SCHOOL DISTRICT BOND MEASURE GFocus on Los Al High School 
Impact on taxpayers
Measure G requires 55 percent of the vote to pass. If passed, property owners would see a tax increase of an estimated $30 per $100,000 of assessed property value. It would not be based on a property's assessed market value, according to LAUSD. Property owners in the district would be affected which includes Seal Beach, Los Alamitos, Rossmoor, Surfside, and small portions of Cypress and Long Beach. Residents of Leisure World, the gated retirement community in Seal Beach, will not be impacted if Measure G passes, according to Dr. Kropp.
"Our schools are assets that belong to our whole community," said Diana Hill, a member of the Board of Education of the Los Alamitos Unified School District who voted in favor of placing Measure G on the ballot. "Not only do high quality schools add value for property owners, they also are used by the community as parks and for recreation," Hill wrote in an email this week. The Board voted to place Measure G on the ballot in June. The vote also included stipulations for oversight and rules on how Measure G money can be spent. For instance, Measure G funds cannot be spent on administrators' salaries or pensions.
If Measure G passes, an independent oversight committee made up of community members will be formed and tasked with making sure money is spent as authorized. Annual audits will be required. LAUSD is also required to budget money for facilities and maintenance to help prevent the need for a future bond.
In 2008, voters approved an LAUSD bond measure for a $126 million, which garnered the district an additional $30 million in matching funds from the State of California, according to Dr. Kropp. Passage of Measure G could also unlock matching funds.
Reaction to Measure G
Lisa McClellan, president of the Los Alamitos Educators Association, the teachers' union for the district, said the union endorses Measure G and its goal of modernizing district campuses. "For the continued success of the district to be able to meet the needs of the students of today and tomorrow, we need to have updated facilities," McClellan wrote in a text message. "The most important thing residents need to know about Measure G is that all the funds will stay local and go directly to supporting, modernizing and improving our already excellent school district," said David Locke, co-chair of Residents for Excellent Schools, a group that has raised $25,000 to campaign for passage of Measure G.
There is no formally organized campaign against the bond measure and no argument against it appears on the Orange County Registrar of Voters online voter guide. An argument in favor of Measure G was signed by Seal Beach Mayor and District Three Councilman Mike Varipapa. To see the text of Measure G, visit: https://www.ocvote.com/fileadmin/user_upload/elections/gen2018/measures/Los_Al_USD_-_FT.pdf
SEAL BEACH MEASURE BB
1% SALES TAX INCREASE
INFORMATION ON MEASURE BB
September 19, 2018
Dear Resident,
One of the most significant challenges for any public agency, including Seal Beach, is the rising cost of keeping residents safe.  Our fire, police, and marine safety personnel have an ever increasing demand on the quality and frequency of the services they provide.  Balancing critical services while maintaining key infrastructure has become a serious budgetary issue that has arisen due to declining revenues and escalating costs.  This financial dilemma poses great risk to the quality of life that residents and visitors have come to expect and enjoy.
The City continues to suffer from the fiscal instability caused by sources of revenue that are either declining, or not growing enough to fund the necessary level of essential City services.  The State of California has taken local revenue from the City of Seal Beach and other cities on a regular basis over the last 20 years to solve the State's fiscal problems, without any concern of the impact on local government services that our residents, businesses, and visitors need.
During the budget adoption process for FY 2017 – 2018, outside regulatory agencies and the State legislature created significant challenges associated with bringing a balanced budget to the City Council. Specifically, there was great concern about the increasing costs related to critical public safety services, retiree health, insurance, homelessness, the costs of improving infrastructure, pension liability, and complying with clean water mandates, as well as changes to the prevailing wage requirements for certain types of public works contracts.  Consequently, the City Council adopted a budget for FY 2018-2019 with an operating deficit.
To make Seal Beach more financially secure for the future, the City Council unanimously approved placing a sales tax measure – Measure BB – on the November ballot.  Measure BB is a prudent and sober recognition of the City's current financial condition and the prospect that this condition can worsen without additional, stable sources of local revenue.  Recently, City staff presented a Five Year Financial Model to the City Council and the public.  The financial model revealed that without a viable and dependable revenue solution that Sacramento cannot take away, the City's structural deficit will continue to increase as expenses rise at a pace greater than the revenue base can support.
Let's look at where our sales tax goes.  The current sales tax rate for Seal Beach is 7.75%.  If you were to spend $100 then $7.75 would be distributed as follows:
If approved by the voters, Measure BB will increase the sales tax rate from 7.75% to 8.75% and is estimated to generate approximately $5 million in new transaction and use tax (sales tax) annually.  For each $100 spent on taxable items in the city, the City would generate an additional $1.00 that would stay in Seal Beach. In other words, the City would maintain local control and the State would not be able by law to take these funds.
The population of Seal Beach is approximately 25,000.  There are over 700 registered businesses in the City and these businesses serve a visiting population of approximately 2,000,000 each year.  The visitors to the City would pay their fair share of the new tax, helping to offset the cost of the services they use.
Should Measure BB pass, it would be administered by the California Department of Tax and Fee Administration, formerly known as the Board of Equalization, in the same manner as the City's existing sales tax.  The new revenue would be separately identified when remitted to the City and would be placed in a separate revenue account, which will be independently audited.
The City is at a financial crossroads.  In November, the voters of Seal Beach will determine the financial path of the City and in doing so will shape our town for generations to come.  We ask that you take the time to consider what future you want for Seal Beach, weigh the potential outcomes, and on November 6th please vote and let your voice be heard.
As always, we welcome and need input from the community.  If you have any questions or concerns regarding Measure BB or any other matter, please feel free to contact me at (562) 431-2527 or via email atjingram@sealbeachca.gov. The City's website is also a great resource for information –www.sealbeachca.gov. Thank you for taking the time to read this important message and for your support in continuing to make Seal Beach such a great community.
MEASURE BB BALLOT INITIATIVE INFORMATION:
LOCAL RESIDENT ROBERT GOLDBERG'S ASSESSMENT 
Dear Friends & Neighbors,
I am strongly supporting the proposed 1% sales tax increase on November's ballot. Our budget is currently in very bad shape with a "real" deficit of somewhere between $2.0 and $2.5 million. By "real" deficit, I mean one that is not offset by pulling any one-time or short-term financial "rabbits out of the hat." My tracking of the budget numbers over the years indicates that we have had a "real" deficit since July 2016. This has grown in size as costs (most of which are not under Council control) have increased faster than revenues. Now we have run out of rabbits and are spending down our reserves.
If Measure BB does not pass, and the City does not raise millions through some other tax, a budget forecast model that I recently completed predicts that our deficit will balloon up to $3.4 million within four years. During the same time, our reserves will drop from about $13 million to about $4 million(compared to a recommended level of about $24 million). This $4 million and the $4.4 million we now have set-aside for a new swimming pool might keep us afloat until 2025 or so, but then there is a real possibility of going broke and not being able to "meet payroll."
If you have heard enough and are going to vote for BB, no need to read further. However, if you are still not convinced, then I invite you to take a look the attached budget forecast model. It is an interactive tool that allows you to enter your own predictions for future inflation, revenues, and expenditures. You can try doing things like cutting staff positions and freezing salaries to see if this solves the problem without a tax increase (spoiler alert – it doesn't in any realistic scenarios).
The budget forecast model is similar to one that was recently created for the City, but which unfortunately has not been made available to the general public. Given this limitation, I have spent months working on my own because of how potentially informative such a model can be. For example, you can enter your preference for the size of our police force, and then see if we can afford it. This may seem like an odd question given the potential of $5 million in new revenue from a sales tax increase. However, $5 million is not as much as it seems after considering the size of the real deficit, and the ongoing trend of costs going up at a faster rate than revenues. This trend will continue even if Measure BB passes. So for example, my model predicts that if we keep the total number of police at the current level of 35, we will have quite a large budget surplus of $2.8 million next fiscal year. However, this is predicted to dwindle to $900,000 by fiscal year 2022-23. Assuming that the Council does not want to ask voters for more money before then, this predicted surplus would allow the immediate hiring of a few more police officers, but perhaps not as many as some would like.
I would also encourage anyone who is interested in budget questions such as how much we spend a year on various things (salaries, pensions, fire services, contractors, etc.) to take a look at the model. The model includes data that I extracted from the current and several recent budgets. Most of the results are as expected, but there are a few surprises. For example, I was surprised to see annual cost increases that significantly exceeded inflation for services from the West Comm 911 call center, and surprised as well to see much larger increases in what we pay for information technology services/equipment. Another surprise was that total costs for miscellaneous "Contract Professionals" (not counting those working on construction projects, legal services, or info tech) have been flat over recent years.
The attached model is "Version 3.0″ Only a handful of people saw earlier versions to give me feedback. Version 3.0 is for general distribution, so please feel free to forward it. I would greatly appreciate further feedback including, of course, any suggestions for improvement or correction of errors. I would also like to encourage users to send any comments on their predictions for inflation, revenues, and expenditures. If I get enough good suggestions, maybe there will be a Version 4.0.
The model does require that you Microsoft Excel. If your display screen is only 15", set your "zoom" to 85% and everything should be visible.
Enjoy and Vote for Measure BB!
SEAL BEACH, ROSSMOOR AND LOS ALAMITOS  ARE UNIQUE COMMUNITIES. WE HAVE LOCAL PAPERS. LET US USE IT TO EDUCATE PEOPLE. CONTRIBUTE.
CONTACT THEM BELOW. Do you want to know more about what is going on with Seal Beach government? Seal Beach is special in that we have a publication that informs its residents. Let us find a  real purpose for it.
http://communitymediaus.com/contact-us.php
Email these editors to get your stories published:
News Enterprise Editor Ted: editor@newsenterprise.net
Sun News Paper Editor David: editor@sunnews.org